Have you ever discovered something new and then you're bombarded with it and wonder why you didn't notice it before? I do this all the time with new words. Once I learn a new word, I hear it constantly. Were my ears closed before?
Earlier this year I learned about Smash Books or Life Journals and I'm addicted! I actually haven't started one for myself yet but I've been creating them for other people :)
The fun in it for me is creating the pockets, tabs, stickers, pages, covers, mini envelopes,
etc. I've learned a trick or two and I'm going to share what I've learned here on Tuesdays. I'll be creating some free printables for your journals and I'll present those on my Freebie Fridays!
I highly recommend
The Cinch
for binding. It's inexpensive and is easy to use. Practice on scrap paper and cardstock before using your good stuff :)
It's easiest to create a square 6x6" journal. All measurements are equal and calculating fold lines, etc. is just easier until you get the hang of things. Not only that....cardstock and paper comes in 12"x12" pads so cutting is easy and there's less waste.
Start by cutting two 6x6" chipboard covers.
If you want to make a very simple journal, simply cut paper or cardstock into 6x6" squares. Line them up, bind them together and your basic journal is ready for decorating!
I like to cut cardstock paper (not the real heavy stuff) into 5.75" squares for the front and back covers. Your chipboard will show a little around the edges. Attach with two sided tape or glue tape and your done! Your book will be similar to this.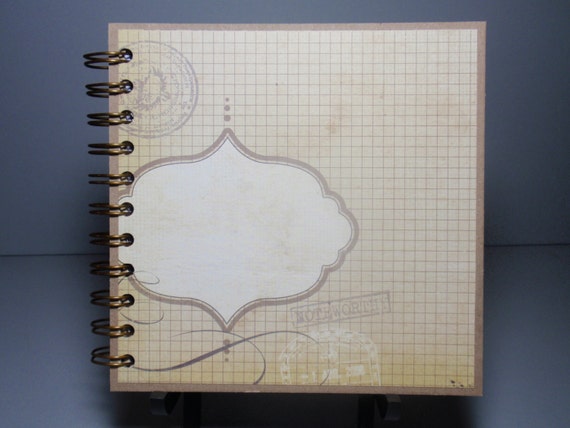 Remember to check back Friday for a free printable for your journal. You won't be disappointed :)