I know I'm a day late, but it's Quotable Sunday!
To participate, please visit: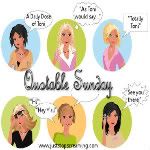 You'll have a chance to browse around and read all the other participant's quotes and be able to list your link!
Today's subject will be nature :)
I ran across this quote in a magazine and it's really stuck with me.
Someone's sitting in the shade today because someone planted a tree a long time ago.
--Warren Buffet
The richness I achieve comes from Nature, the source of my inspiration.
--Claude Monet
Study nature, love nature, stay close to nature. It will never fail you.
--Frank Lloyd Wright
Again, please visit
A Daily Dose of Toni
for more quotes!