Good ~~~~stretch~~~~ morning everyone!

Shelley has asked that ~~~~scratch~~~~I take over Quotable Sunday today.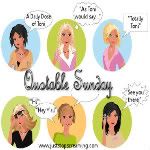 So today's subject will be

BUFFY'S FAVORITE CAT QUOTES!

Most beds sleep up to six cats. Ten cats without the owner. - Stephen Baker

"If you are worthy of its affection, a cat will be your friend, but never your slave."- Theophile Gautier

"Cats can work out mathematically the exact place to sit that will cause most inconvenience."- Pam Brown

And my purrrsonal favorite.....

Cats never strike a pose that isn't photogenic.

- Lillian Jackson Braun

Now be like a cat and have a purrrfect day!