It's quotable Sunday!

Please visit: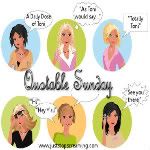 To see the other quotable Sunday links and feel free to join in!
I really needed a laugh today and decided to go with
Teenage Quotes!!
This one is great:


"Adolescence is just one big walking pimple." - Carol Burnett
And this one's for my husband:


"You can only be young once. But you can always be immature." - Dave Barry
"The main problem with teenagers is that they're just like their parents were at their age." - Anonymous
(Actually my kids are better than I was....no more details available)
"Imagination is something that sits up with Dad and Mom the first time their teenager stays out late." - Unknown
(Come on....Dad doesn't have to worry...I worry enough for both of us!)
Happy Sunday everyone!